Cowboysbelt, the popular Amsterdam leather goods maker, is expanding its horizons. Under the new brand name Amsterdam Cowboys, the company proudly presents a diverse lifestyle collection of high-quality products targeted at the high-end segment.
Amsterdam Cowboys is a new premium brand for leather bags, belts, shoes and home accessories. The products are designed for people who have a strong character and are not afraid of showing their individuality. "We're a brand with a clear opinion about design," explains Huub Tebbens, co-owner and responsible for the company strategy. "Today, with the existence of so many concept stores, we believe it's important to offer even more leather products, our specialty. In taking that step, we of course have to make sure we have the right kind of expertise. Thanks to our development in the last few years, we have the right cooperation partners and we have great in-house designers."
A bit naughty
Cowboysbelt was founded in the 1980s, a time when jeans had their heyday. But cool-looking belts to wear with jeans were few and far between. So Cowboysbelt introduced the wide cowboy belt and leather cowboy bag to the Netherlands. Now it's time to take the next step. "Amsterdam Cowboys is more of a lifestyle," explains Mieke Brouwer, co-owner and creative director. "It's for adventurers who, just like us, love travel, beautiful products and quality. It's for people who are not afraid to display their individualism, and not afraid of being a bit naughty."
Brouwer is convinced that there is a demand for a new high-quality lifestyle label. "People who share our taste like to have all possible (leather) products in the same style." In addition to bags, belts and shoes, the Amsterdam Cowboys collection also includes accessories for the home and many other attractive objects and accessories. The use of leather remains an important starting point. Leather is combined with other natural products that match the brand, such as wood, steel and marble.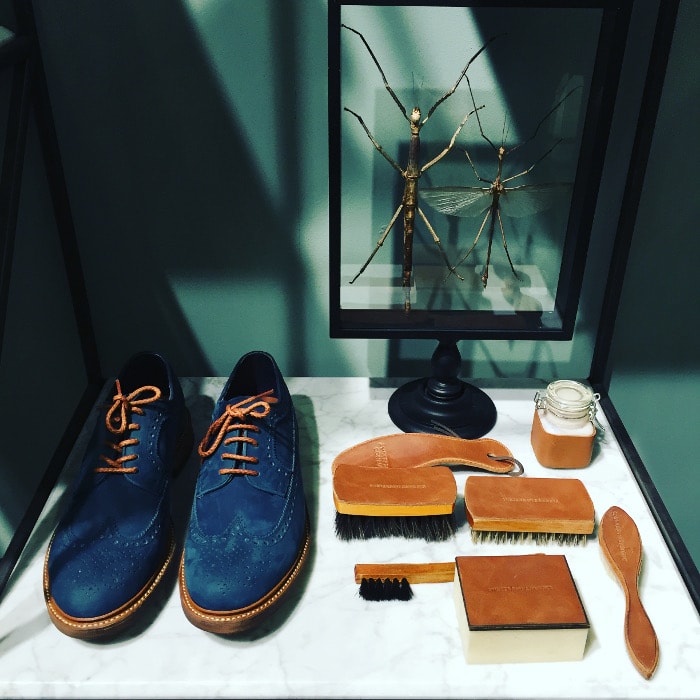 Choosing quality
The fact that Amsterdam Cowboys focuses on the premium segment is reflected in the products. That begins with simple things like a zipper or the inside lining. But leather also obtains other qualities when the cows are able to graze in the outdoors, explains Brouwer. "The leather becomes more beautiful, more luxurious. Decisive is the way it's processed: the leather we use is tanned using natural materials. That gives the leather its unique quality."
That many people still believe 'leather is leather', with little difference between them, is due to a lack of knowledge about the materials used in the process. Well-made leather is completely different to a piece of skin that is simply painted. "Finishing the leather to the end is how you extract the 'life' out of leather," explains Tebbens. "We think it's important to show the material as authentically as possible, by only using natural waxes and oils." This is how the product is able to form itself according to the user, and it gets more beautiful as time passes. You can see and feel the structure of the material. It has character. By using different qualities of leather, the collection also offers something for everyone: for example, one bag might be a bit tough, while another feels softer and more soothing to the touch.
Subtle details
The design team draws inspiration "from everywhere and nowhere": that could be a nice hotel with clear, architectural lines or the quality and craftsmanship of Scandinavian design. The new Amsterdam Cowboys collection for fall/winter 2016 is all about subtle details. One bag has fine studs on the bottom, a stitch that runs over the entire design in an elegant curve, or simply a luxurious zipper that serves as an eyecatcher. "It's that kind of finesse that makes every collection a bit different," explains Brouwer. "Fashionable, but never in a flashy, over-the-top way. We don't like big logos or any bells and whistles on our products. We let the material speak for itself, and the details serve as finishing touches."
Tebbens speaks enthusiastically about the new men's collection with its luxurious leather belts. "Dress belts for a men's suit usually have a very traditional design, with a standard buckle. We believe a lot of men need a high-quality product, but one that breathes a touch of cowboy. Elegant, yet still trendy. There hasn't been a product like that on the market so far. Whereas more and more we see that the true 'suit men' like to dress casually, while men who like wearing jeans like to combine their jeans or chinos with a jacket. The strict divisions are disappearing. We think that's a good development, and with our belt collection we're inviting people to combine their clothing in unexpected ways."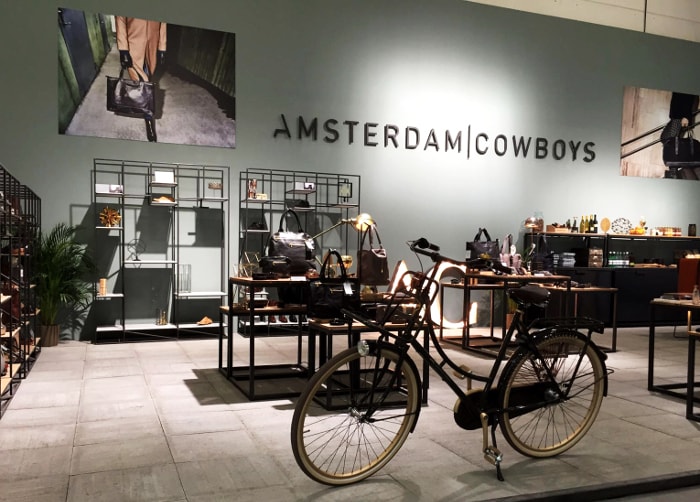 Future plans
The introduction of Amsterdam Cowboys marks a new chapter for the company. The owners believe that a brand must constantly evolve and permanently refresh itself to respond to the drastic changes in the market. "What consumers wants and how they shop for it is changing. The integration between brick-and-mortar stores and web shops will continue," says Tebbens. "We sell a concept, an experience. In that sense, our plans are unlimited! For example, we could imagine furnishing restaurants with our lifestyle products. That would be a logical step. A restaurant in Amsterdam Cowboys style. Sounds great, right?"
At the Modefabriek and at the Panorama trade fair in Berlin, the new collection was enthusiastically received. And in order to celebrate the introduction of Amsterdam Cowboys, an 'Add Character' campaign has just been launched: tattoo artist Rutger Termohlen has tattooed an Amsterdam Cowboys bag with images of typical Amsterdam canal houses – a tribute to a city where you can be yourself. Whoever shares a photo of themselves with an Amsterdam Cowboys product on Instagram, accompanied by the special hashtag, has a chance to win this collector's item.
"In the past we wanted to let the brand and the products speak for themselves," says Brouwer. "Now we want to be a bit louder. We're not afraid of taking these steps. There's a bit of daredevil in all us – just like cowboys, right?" (laughs)
ÚLTIMAS OFERTAS DE TRABAJO